And then I'm out of here. I cannot wait. I'm getting all ogity and fidgity and weird. I really don't like traveling that much. Too much lugging stuff around and putting your fate in the hands of strangers. Not to mention the claustrophobia that has popped up in the last few years and makes every plane flight a Russian Roulette of "perfectly calm" and "total freak-out". Thank god I have my little stash of 5 Xanex (that I've never actually had to take) doubling as a nice chemical security blanket if the panic attack hits mid-flight.

But I can't wait to see my family and the new houses (parents and sister) and not have to go to work for over a week!

Last night I met Melanie at her favorite coffeehouse. We both brought the dogs and sat outside and worked and slowly froze. Since it was about 55 degrees, this does not bode well for my survival on the East Coast where there is a cold snap happening. Lucy made some new friends and positioned herself to be the greeter by the front door. Should I be concerned that my dog is more outgoing then I am?

As promised, some pictures. Priscilla is my model, since I don't have one of those cool glass heads lying around.
The converted-to-stripes "flame" hat. Made from Patons Classic Wool in black and pumpkin with some other yarns I had around. For my cousin the Harley repair guy. I know the colors aren't exactly Harley-esque, but they're close.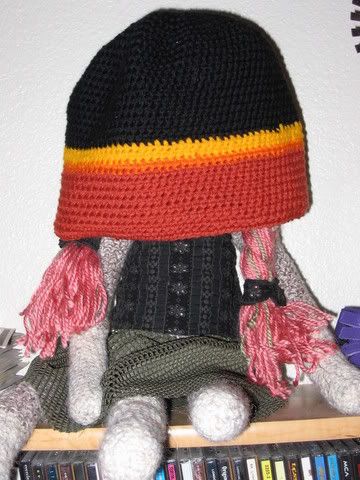 My hat - made from LionBrand Chenille Thick and Quick in Wine. There is a matching scarf but you all know what a scarf looks like at this point, a long skinny rectangle. Notice how it brings out the color of Pricilla's lips. Also take note of her fancy purple rollerblades sitting next to her and the Jones Soda bottle that is sporting a dog on the label that looks an awful lot like Lu.




Here's a shot of the flame part of the non-existent flame hat. Can you see the problem...correct, hats are supposed to be worked parallel to the head, not perpendicular. I will try again after the holidays. I may have to turn this into some type of sun object, wall hanging or trivit perhaps.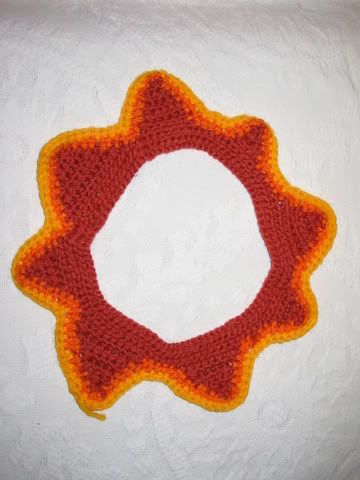 And finally, a picture of Lucy since she's so damn cute. And I'm going to miss her bunches next week.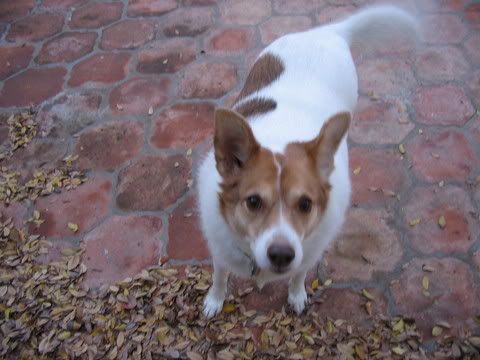 Tonight, the plan is to find my gloves, wash more clothes, collect every warm piece of clothing I own, both start and finish another hat, organize things for Lucy, pay bills, talk to my parents and watch Lost. All without the dog noticing that anything unusual is happening.