All the parts of the tank are complete. All I have to do now is add the zipper and seam them together. Gulp.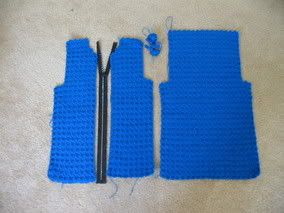 In other news, I started another project to submit to the SnB crochet book. It's going slowly and I keep changing things so each row looks a little different, but it's coming together.

Books:
13. Life Among the Savages - Shirley Jackson
14. Raising Demons - Shirley Jackson

You'll probably remember Shirley Jackson from your required reading of "The Lottery" in school. She did write a lot of suspense, but these two books were about her family, mostly her 4 children. The different chapters appeared first in various women's magazines in the late 40's and 50's and they are hysterical. I think her writing style is similar to my own, and she is one of the few authors that can make me laugh out loud (Laurie Notaro, Bill Bryson and Dave Barry being the others).

Yesterday, Melanie and I traveled to Lux to meet with Michelle and Brooke. Unfortunately, we were late because closing I-17, even when you aren't trying to go anywhere near it, royally screws up traffic for miles around. Brooke and bambino never actually made it since Jack decided it was a good time to start acting like a little baby so poor Michelle was sitting there alone for about half an hour. Luckily, she's very self-sufficient and survived admirably.

After a few hours, Melanie and I tried to go to the Japanese festival downtown, but arrived as it was closing, so that didn't amount to much. We then decided we needed Italian food and drove to Mesa to get some. That place was closed and we ended up at the Pink Pepper for Thai food. Not the same, but very good nonetheless. And why am I such a sucker for peanut sauce. And then on to Bookmans to try and thin out my bookshelves. It didn't turn out quite as planned, since I sold about 8 books and bought 4. 4 is less then 8 so at least I'm heading in the right direction.

Today has been spent on house stuff and tank tops. The evening will be spent on tank tops. Unless I go mad and start something new.