Not your traditional holiday, but I just getting around to posting the pictures.

My parents, sister and I went to a Lancaster Barnstormers game. Below farm league even, but a good time was had by all.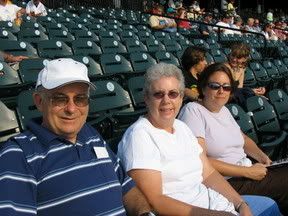 More people eventually showed up - the game was sold out.

Here's Cylo, the mascot. Get it? The "fun" spelling of silo? I kept wanting to call him Psycho.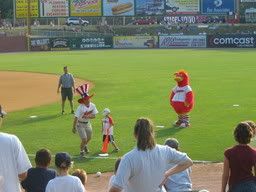 And after the game (which was a dismal 10 to 2 loss to the Long Island Ducks) there were fireworks. All sponsored by the nice folks at Kellogg"s who also handed out Rice Crispy Treats. And dad was grossed out by them so I got two! Whoo sugar!




It's really hard to time firework shots correctly, I kept getting black sky.

The entire evening had a touch of the surreal about it.
Ducks?
Psycho cows?
Closed parking lots so no one gets scattered with burning firecracker embers?
One really drunk guy successfully getting the entire stadium to do the wave 6 times around?
Little kids spontaneously doing the Saturday Night Fever dance with their foam fingers?
Surreal, but fun nonetheless.