I got my order in from Kpixie yesterday! A whole bunch of allhemp3, sportweight from Hemp for Knitting. Deep Sea, Foggy, Sapphire and Licorice, all destined to become a random stripy sweater. And dig the leaning tower of yarn I created.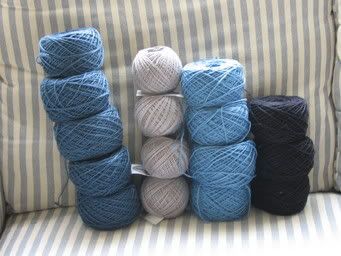 Thanks Melanie!

The canine concentration in the house went down by one yesterday. Murphy is off to a relaxing vacation where he won't have to hear me yelling "NO!" every time he tries to eat Myriah's food. Which happens frequently. I think he left just in the nick of time, here they are wondering if they can get into the fridge from the back. Murphy's acting as lookout.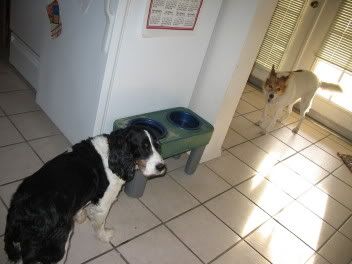 Lu and Murph will miss each other. Once they figured out they could both fit on the bed (with me acting as a buffer) everyone was happy. Here they are saying "see you soon (and remember not to move on the fridge until she's asleep".)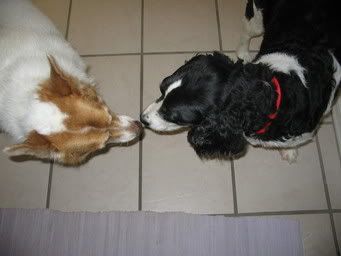 Myriah is still here. She is the most social anti-social dog I've ever met. As long as I don't look at her or acknowledge her existence in any way, she follows Lu and I from room to room. Last night she spent under the bed. Of course she's still there now (I peeked at her to make sure all was well).

What cracks me up about this picture is not Lucy's hinder but the fact that Myriah is only slightly larger then my frickin' shoe.