The first first.

For the first time I met an online friend in real-life. Noricum was in town for a conference and we got get together, hang out and knit/crochet and eat at Cracker Barrel (Lori must be so jealous right now...).

Here we are at Tempe Yarn and Fiber (you can see a very similar pic at Soapbox). That's Melanie, Noricum, me and Terry who owns the joint. Oh yeah, and a whole bunch of pretty yarn.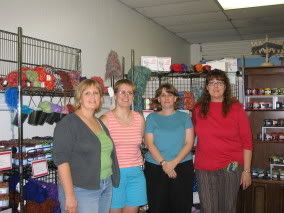 We also got to watch the silkworms eat lots of little holes in mulberry leaves. Fascinating buy shivery creepy at the same time.

Thanks for wanting to get together and hang out, Noricum!

The second first. On the way to work yesterday, a hoard of over 50 motorcycles were merging onto the I-10, trapping our bus at a light while they made a left. Even with 50 of them, I was unable to read any bike, or jacket or anything to see what the occasion was. The group was mixed, all kinds of ages and appearances. There were a handful of female riders which was really cool since you don't often see that. Does anyone have any idea what this was? 8 am on a Thursday seems like an odd time for such a sighting.

The third first. As I was walking past St Mary's Food Bank, a gentleman looked up from his breakfast and said "Hello, Miss USA". OK, I realize he was probably buttering me up but I still took it as a compliment.

The fourth first (this one is potentially very boring to everyone but me, so feel free to skip it). I have never been so annoyed at a corporate entity than I am at U of A. As I talked about last post, I was hoping to take a class there this fall but found out it had been canceled due to lack-of-professor. After a few slowly returned phone calls and emails with the school, I decided to take the course during the summer but not without lots of stress and ogida on my end because of workload and deadline concerns. So I fill out the continuing ed application to the Graduate School as a whole and pay them my $25. And I complete the inexplicably detailed Residency form and stick it in the mail. And I fill out the program-specific application and fax it in.

Two of these three action were so much more complicated then they should have been. Filling out the application online was frustrating and confusing. Instructions were unclear and navigation was difficult. And after I was done I spent half an hour trying to print my copy out because the school wanted a printed copy of it to go with their application. I finally had to resort to calling Tech Services, just to be informed that you can't print a completed form. This was not a new development either. Therefore, on the program-specific application I wrote a long note about how I was unable to print but it was accessible online blah, blah, blah. Trying to be courteous but letting them know they need to update their system dramatically.

So I finally finish all that. I'm both annoyed and nervous. I am waiting to get more instruction on how to register for the actual course. Then I remember I need to drop the class I'm registered for at Pitt by Monday to get a refund. Part way thru the email doing just that, I heard a funny little voice telling me to check the U of A course list again.

The course had been canceled. Within the last two days.

Needless to say, I didn't send the course-drop email. I did call U of A to confirm this and (they actually answered the phone and) got a sob story about how they couldn't find a professor. The same reason they canceled the fall version. The one I had called and asked about and then said I would be taking the summer one. To someone who had to know there was a good chance that it would be canceled as well. Who didn't think it was important to mention that.

This could have potentially kept me from graduating on time. It could have royally screwed up my financial aid. It didn't, thanks to a funny, little voice.

But I'm still annoyed. And they won't refund my $25.