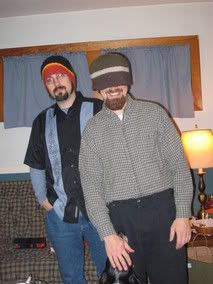 The cousin hats. Remember I said Rod's was too big...there's proof.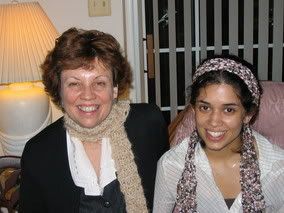 My double second cousin by marriage, Barb and her daughter, my double third step cousin by marriage, Priti, modeling some of the many christmas scarves.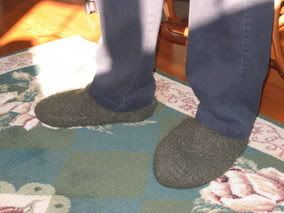 Dad's felted slippers (actually a birthday FO, but I didn't have my camera back then). He didn't tell me they resembled clown feet so much.

I also FO'd 4 other scarves but promptly forgot to take pictures of them. And I finished the cuffs on my sister's mittens, but frogged them in a moment of despair.

This one's not an FO, but my IF (immediate family). Please excuse the outfits and weary expressions, much home repair had been done that day. Note the paint swatch on the far wall.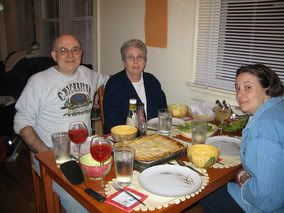 And my sister with a relaxing glass of wine and some more of the numerous paint swatches for her living room (all neatly labeled).