For Jen, who noticed that I didn't post today. And announced it to everyone at Mama Java's. This one's for you.

I had a plan for the day. Quickly finish the SWTC scarf and turn it in. Do the rest of the things that my life consists of. Go to SnB. Good plan, right.

Nope. Worked on the scarf 'til I ran out of yarn, which unfortunately was not at the end of the pattern. Frogged back the entire outer row (minus the 1/8th that was yarnless). Redid the outer row modifying the pattern slightly to use less yarn. Ran out of yarn about 1/16 short of a complete circuit. Frogged back to the beginning of the row again. Restarted in the correct pattern stitch and realized I had been working on this scarf for about 3 hours and I needed to actually get something done. Put scarf down and did other things.

Went to Mama Java's and met the group. Redid the outer row and ran out of yarn at the same spot (imagine that). Worked on the SWTC tank top a bit. Came home. Took picture. Posted.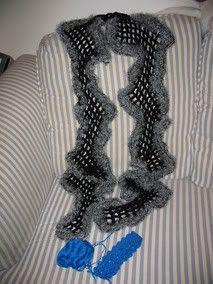 Tuesday didn't go as planned either, but it worked out well. Dithered around all day doing those little nothing things that take up all your time. Made a last minute decision to go to the Gilbert SnB at Cups with Melanie. Was able to use the whole SnB networking thing to my advantage (you didn't know that there was a SnB network? Of course there is. And it works well). And now I must say "Thank You" to Sarah. And I'll see you tomorrow. And Cups is a pretty cool place, I'm looking forward to going again (every other week? or once a month? I can't remember what was decided).

Tonight was nice too. Brooke, Jack and Jen were there early, followed quickly by Kim minus Angus (she looked funny, it was like she was missing limb or something). Cathy from Boston was there for stress relief while her mom's at Barrows, Nick and Melanie and Kirsten and Michelle and Becky and the other Cathy and the other Cathy and Kiki and family and some others also came. Smaller group then last time, but fun nonetheless. Brooke took pictures and now has proof that others are allowed to hold Jack.

Tomorrow, hopefully, I will get to SWTC and get more Diva yarn. I'm going to try and get another ball of Bamboo for the tank as well, just in case. And possibly an evening trip to Fiber Factory to buy only one ball of yarn. Just one. Only one. And not that expensive. For the one ball of yarn. Just one. Single ball. One.

I believe I have run out of things to say. I know, I can hardly believe it either.