I leave the house for few hours, I come back to dog who has eaten almost 20oz of Snausages. She managed to get the new container off the counter and chew the entire end off and devour the contents. One container usually last about a month. She is not getting dinner tonight. And possible no breakfast tomorrow. It's going to be an interesting evening, digestively speaking.

But doesn't she look innocent...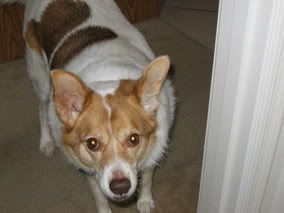 Project-wise, I just submitted an idea to Debbie Stoller for the next SnB Crochet book. It's a headscarf / do-rag type thing made of Butterfly cotton. I turned in the SWTC scarf and received 4 balls of green Bamboo (a prototype color, ain't I just hot stuff). The SWTC tank top had one front panel about 2/3 complete. I am designing another pattern for the SnB book. I think that's it.

Reading-wise:
10. Hard Eight - Janet Evanovich
11. Visons of Sugar Plums - Janet Evanovich
12. Blues Dancing - Diane McKinney-Whetstone. I've actually met this author when I worked at Barnes and Noble. She writes about African-American families in Philadelphia and the south. This is her third book and I recommend her highly as an author, even though I didn't care for the ending of this one, it seemed rushed.

Yesterday I met the SnB group at Coffee Rush, a bigger group then I would have expected, we kinda overran the couch area. Tonight I'm meeting Melanie and Sarah at Cupz in Gilbert at 7 if anyone wants to join us.

Right now I'm going back to my old place of employment to sign some insurance form. I'm dreading it and hope I don't run into anyone, though I know I will because the front door is locked and I'll have to wait for someone to let me in. I'll do my best not to spit on anyone, but I can't make any promises.

And then I'm going to go get my hair cut. If I had patience, I could grow it past this annoying stage, but I don't so chop chop. And now maybe my hair will dry in a normal time period. Oddly enough, I'm getting it cut much like my sister has her hair. We see each other about twice a year, but we always have similar new haircuts. Some people have psychic connections with their family for emergencies and important events...my sister and I get the same hairstyle unknowingly. Maybe Ripley's will be interested.