Right now, at this very moment these are spinning around in my washing machine.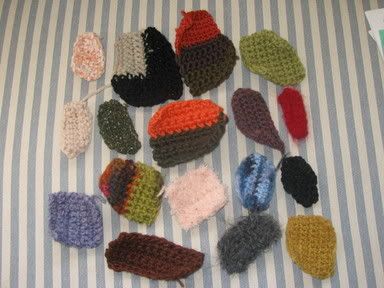 Let me explain. No, that would take too long, let me sum up.

I have lots of yarn. Some of it is unlabeled.
I have a significant amount of wool. Some of it is sportweight.
I have too much time on my hands. Some if it is spent making itty, bitty swatches of wool and suspected wool.

So it's a felting test. I made a master list and everything. I probably should have measured them before and after...I'll just have to take an exact duplicate of the above photo when they're done and extrapolate. That'll work!

A felted bag idea is floating around my head but I really have other stuff to work on first. Lots of other stuff.

Don't fear for the washing machine. Sarah lent me one of those zipper mesh bags and it is currently encasing all the teeny tiny swatches. Now I just have to hope they don't felt into one great big, huge blob.

I did finish some hats. They weren't on the list of WIPTB (Works in Progress to Be), but they did use up some stash yarn. I've decided to add them to the Desert Sam donation pile as chemo caps.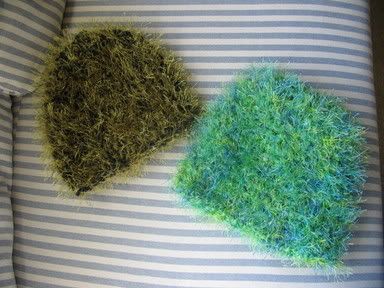 Left - Black Homespun and Olive FunFur
Right - Florida Keys Homespun and Citrus FunFur
Q hook for both.
Each one took under an hour. The black and olive one was started and finished during yesterday's SnB at Pita Jungle.

Tonight I'm going to Cupz. Melanie is supposed to go, but she's gotten sick again. FEEL BETTER MELANIE!!!! I miss my knitting buddy and am having hot chocolate withdrawal!