Here the crocheted Clapotis in process.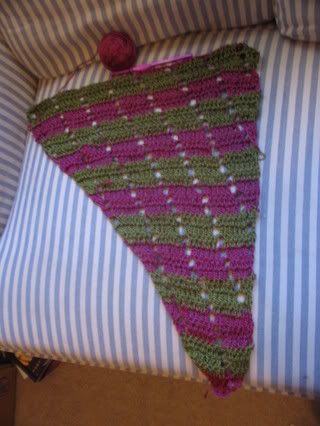 I know it's "pointier" than the knit ones, but I couldn't seem to get past that. And the "dropped" stitches had to be incorperated as I went since no such beast exists in the crochet-verse. I'm about 3 rows into the straight part which will last for 4 more balls of yarn. Then 2 balls worth of decreases((I'm taking a casual approach to this whole 'figuring out yardage' thing). I just hope it's long enough - this is the yarn that enjoys mocking me, so it could have something nefarious up it's sleeve.

And yes, I did stop in the middle of a row. I'm a force of nature, no cardinal rules of crochet can contain me.

Current reading - Deception Point by Dan Brown. I loved The DaVinci Code, liked Angels and Demons and hated Digital Fortress. This one it holding my attention but I'm beginning to think Dan Brown was abducted and forced to do brain teasers as a child. Seriously, how often do you get on a mysteriously arriving helicopter and get taken to a mysterious location where you need to solve puzzles so you don't die. According to Dan Brown, it's a regular occurrence.

And I think I'm reading too much genre fiction lately.