One year ago (plus one day), I was in Washington DC with one million other people, showing the government and the world that the Pro-Choice movement is alive and well. And loud.

This was the second March for Choice I'd been on and it affected me even more the second time, mostly because of what I had learned during the intervening 12 years. I now know women and families whose lives have been touched by abortion, it's no longer an abstract concept to me. It's a heartbreaking choice, but a choice it is and should continue to be.

The Arizona contingent - Showing that the entire state is NOT red.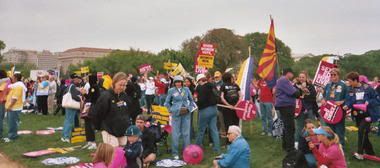 My sister and me, with lots of new friends and part of the Capital building.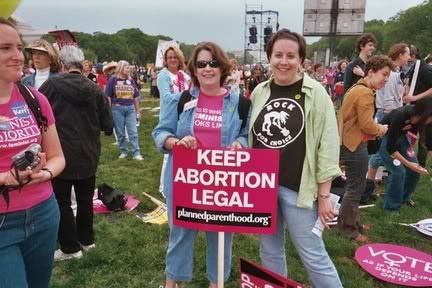 Favorite sign from the March:
Front: God is a woman
Back: Bush is a moron

Important sites:
Planned Parenthood
Feminist Majority
NARAL Pro-Choice America
National Organization of Women
ACLU

Local:
Planned Parenthood of Central and Northern Arizona
NARAL Pro-Choice Arizona

Please visit these sites, learn, spread the word, donate if you can and belive that we can change the world.

Because
This is What Democracy Looks Like

Lucy agrees too: