The tank top.
First for correct color.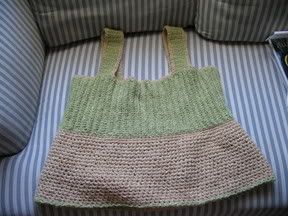 And second for fit. It was damn hard to take a adequate/flattering picture.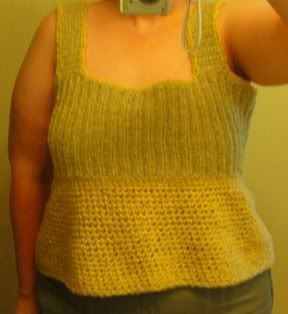 TLC Amore in Celery and Sand. I hook and M hook. Pattern from my twisted mind. Sizing a bit too big, hoping for shrinkage. Started last Tuesday, so 6 days start to finish. Total cost - about $10. Unless you count the time I spent on it that I should have been doing school work; then it might be a bit pricier.

And the fluffy flip-flops made by Mom.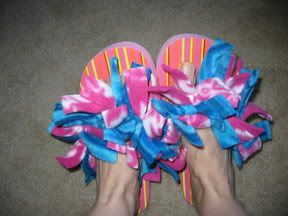 Made of fleece and flip-flops. That's really all I know, except that my sister also got a pair.

Another book.
37. So Long, and Thanks for All the Fish - Douglas Adams. More Arthur Dent. Funny, but I've hit my point. There's another story in the anthology, but I'm done with Adams for a bit.

Though I did like this bit.
"There were little sandpipers running along the margin of the shore which seemed to have this problem: they need to find their food in the sand which a wave had just washed over, but they couldn't bear to get their feet wet. To deal with this problem they ran with an odd kind of movement as if they'd been constructed by somebody very clever in Switzerland."

Not that funny at first reading, but factor in that I do a kick-ass imitation of a sandpiper and the humor just leaps to the surface.

Spent an enjoyable evening at Melanie's tonight. Lucy got to swim and puncture every inflatable ball within biting distance. And cereal commercials from the 50's are really funny. I wonder why they ever stopped using gunfire to advertise Sugar Corn Pops?

Tomorrow, the job hunt starts anew. After school reading, unemployment filing, haircut appointments, Discovering Computer quizzes and even more reading. This weekend was not very homework-friendly.