Ok, for the second time, I'm done making scarves for Mozambique. Well until Kelli asks again.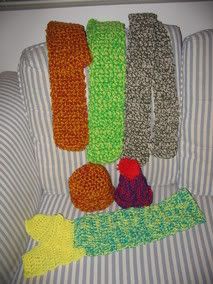 So the FINAL final count is 8 scarves and 5 hats. Everything is some form of acrylic or another, many of unknown origin. Hopefully that means they'll hold up to a lot of use and washing.

Speaking of which, I ran the whole load thru the washer (and dryer) last night. As I said, some of this yarn had a mysterious past and I didn't want to send on any crazy yarn germs to immuno-compromised kids. So they're all clean now. And some of the scarves are a bit (a lot) longer and skinnier than they were at first. That's what I get for using such a big hook, I guess. On the plus side, nothing fell apart. And they should still be warm.

And now for something completely selfish (as opposed to the good deed stuff above). Yarn.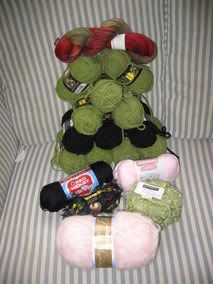 The 12 balls of Kool Wool, one skein of Luster (bought just to use my Joann's 50% off coupon) and my part of the mystery bag. If you look close you'll see some Divine, Bernat Baby, and Fancy Fur (all probably going for Chemo and baby hats) and some Schachenmayr nomotta Brazilia-Pompon (I have no idea what word is the manufacturer and what is the yarn type but hey, it's effektvoll und aufregend, waschmaschinenfest (or impressively and exciting, waschmaschinenfest) (Bable Fish couldn't handle that last word but it sure looks like washing machine to me. Or machine washable. Or possibly washing machine party.)(and now I've completely lost track of my parentheses))))))))

And on the top of the pile? Lorna's Laces! Bullfrogs and Butterflies in Tuscany. Pretty nice for a mystery bag. Now I just need a project... And check out Sarah for her half of the haul (I'm not sure if you can call it an even split, it was hard to calculate relative yarn value).

Coffee Rush tonight. Must pick out project. And pay bills. Stupid cost of living. Anybody got a sugar daddy I can borrow?