That's me. While my head is busy being in a not good place, my crafting skilz are taking the fore.

Currently on hook - pink lace shawl (at 12 inches) and red sock (at one cuff). Both good portable projects, at least at this stage.

Finally a plan - I'm 'posed to make my sis a blanket/afghan type thing. I was going to use this log cabin square pattern but it requires having three colors active at once, in amounts to large to bobble. And the pattern is a little daunting. But today (finally) a light bulb went off. If you peek over at the sidebar you can see I'm supposedly in the 63 Squares CAL. I've had the book for a long while now (9 months probably) but haven't started because I needed to pick yarn and colors and had too many other projects pending. So it languished. Until I realized I have both yarn (in complementary colors) and the need for a blanket. So, tada, sis is getting the 63 squares blanket (i.e. 2 birds, 1 stone). I can't believe I didn't think of this earlier.

Then last night I finished the bag part of the felted rose bag.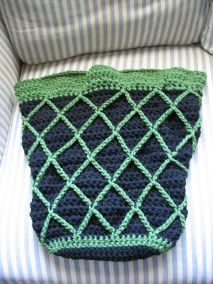 It was felted today. I'm still working on the roses and the leaves and I think I'm going to use some plastic bamboo handles I have, instead of the yarn ones.

I've also had 4 hanks of KnitPicks dyable sock yarn taunting me for too long. I finally picked a pattern (Anika from Cool Crochet) and a color scheme and today the kool-aid commenced flowing.

First batch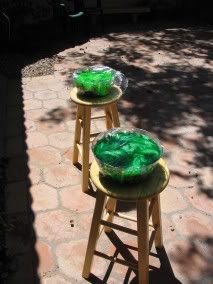 Second batch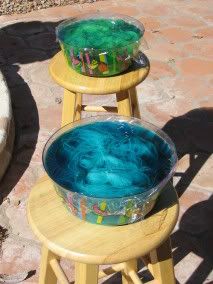 Final products (dyed yarn and bag all drying happily in the bathtub)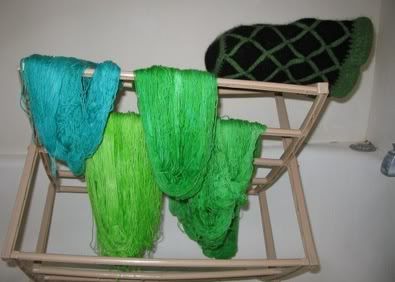 Obviously I used the sun tea method of dying and it worked great. One hank was all lemon-lime, 2 were mostly lemon-lime with one or two packs of berry blue and the last was mostly berry blue with one or two lemon-limes. Oddly enough, the green and little bit of blue hanks turned out a brighter green then the green alone.

I've also been busy dissolving blood clots.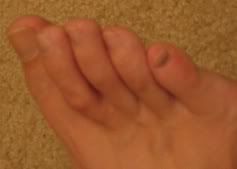 Remember the painful toe-bashing incident. Yeah, so does the toe.

Lucy is just wondering when I'm going to stop stepping over her with bowls of yarn soup.