...is a felted rose.

Here are the roses and leaves pre-hot water.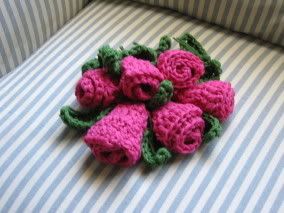 And here's all the completed bits and pieces waiting to be assembled.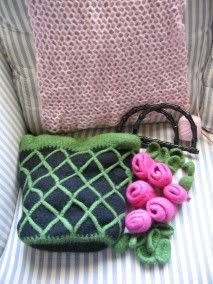 The pink thing behind the bag is the lace shawl.

As for other projects, I'm 5.5 squares into the 63 I need to make a complete blanket. These first ones were easy, just squares of sc, hdc, dc, tc or front and back loop. I'm mid-way thru the granny square and after that I 'm going to have to pay attention because it's all new patterns and/or stitches.

The partially completed sock was frogged thru no fault of its own. Somewhere between the drugstore waiting area and home my hook decided to make a break for it and is currently roaming the country, changing its hairstyle repeatedly and searching for the one-armed man. It is unlikely to be captured because I cannot, for the life of me, remember what size hook it was. Not even a color clue. Hence the frogging, new hook = new start. It will be restarted soon.

In non-yarn news, my friend Tony is in town from Hawaii and I got to spend some time with him last night. We had a nice dinner and then played catch-up for the next billion hours. I didn't even turn any music on, we just sat and talked. And Lucy kept jumping on the couch to try and kiss him 'cause she lluurves him. Hopefully we'll be able to spend some more time together before he goes back home. To Hawaii. From his vacation. In Arizona. He does things a little differently then the rest of the world.

And finally, I bring to you the patented LucyLu Temperature Control System. Want to get a little sun but it's just so much cooler in the shade? Do what Lucy does and split the difference.