Three more headbands and the Magic Strip wrist warmers. All my own design.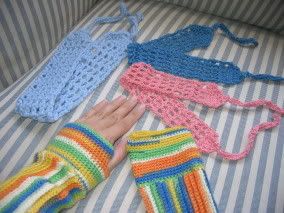 I can't decide what to work on next. I get all set to start one thing and then set it down and start researching something else. It's getting annoying.

Things I have to do
1. Afghan for sister
2. Sweater for mom
3. Baby sweater and hat for sister's friends who I know and like but don't have a close enough relationship with that I'd ever call them.
4. Tank top for SWTC

These things either involve too many balls of yarn being used simultaneously or the yarn hasn't been purchased or I have to think too much. Not good SnB projects and not good vegging-out-in-front-of-the-tv projects

Things I want to do
1. Pink lace/fingering weight shawl - I have an idea and it may be a good portable project
2. A sweater made from the dyable knitpicks sock yarn. Of course I need to pick a pattern and colors and actually dye it.
3. Jonna sweater for me in Oasis
4. Felted Rose Basket bag
5. Another sweater for me in cotton
6. More headbands for random gift-giving
7. Coat-like sweater from recycled silk

And there's about 18 gabillion other projects too.

Too much information. I'm being forced to go take a nap.