First, some FOs. This is a large pile of nametag lanyards and a headband.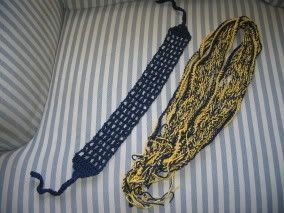 I'm still working on the wrist warmers but will hopefully be done today or tomorrow.

Next project - too many to choose from. I may need to draw something out of a hat. Maybe I should make a hat to draw from...

Books
47. Keeping Faith - Jodi Picoult. Not as good as Sister's Keeper, but entertaining. A little girl starts seeing God and performing miracles while her parents are going through a divorce.

Lucy's still eating the hibiscus.

Some funny websites.
The Llama Song (warning audio [that won't leave your brain!])

Thirty-nine questions for Charlie Daniels upon hearing "The Devil Went Down to Georgia" for the first time in 25 years.

Intelligent Design - what will it lead to?

80's Lyric Quiz - I got an 85, how'd you do?

Presidental output.