Yeah, I'm one of the cool kids now. And it was so easy; I didn't even have to ingest any illegal substances!

You see, I got my proceeds from the yarn swap with Amy yesterday. Looky, looky, Amyville fortune cookie jewelry!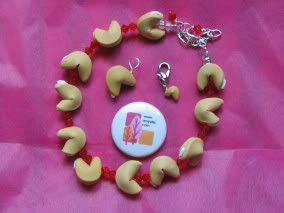 Yeah, I'm cool.

Other good news: Alison has finally owned up to it...she's knocked up! Congrats to Al and Michael and we miss you already.


Toe update - not broken, just lightly bruised and sore. I don't want to, say, walk 60 miles, but I can function.

Crochet-wise I'm feeling the need to churn out some quickie projects. So at SnB last night I worked more on my Magic Strip wrist warmers, started a hat and finished up a few more lanyards. At my on-campus weekends for school, we have to wear our nametags the entire time and they were poking big honking holes in my shirt. So I made myself a little yarn chain/lanyard to hook the tag on. It worked magnificently and was greatly admired by fellow classmates. So I've made 8 more in yellow and blue (Pitt colors, how precious am I?) and will had them out to the "deserving" ones in October. Which means my roommates, the girls in the medical track and a few others. Of course, I'll probably bring yarn to make more since I don't want to leave anyone out.

And lastly - please feast your eyes on the picture below.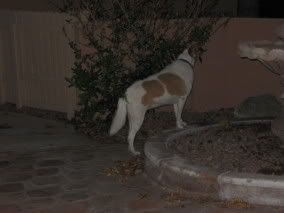 At 11 o'clock last night she got peekish and decided to go out and have a light snack. Of my hibiscus bush.