A few days ago Lady Linoleum wrote this post and it started my brain on a historical tangent.

My family contains some amazing artistic talents. [Remember, you must always call them "domestic" arts because they are mostly done by women and women can't make "real" art. Especially not in their homes with children running around.] Unfortunately, I don't know who all these talents were.

My mom quilts and sews and I've been the recipient of many wonderful things.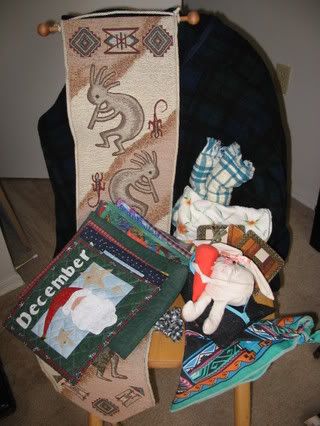 Included in that pile are: a fleece jacket, a wall hanging, 12 quilted calendar squares, quilted coasters, a triangular bag with my name hidden in the decorative embroidery, a bandana for Lucy, a hair scrunchie, two rice heating pads and a very cute Easter bunny. And that's just things I had in easy reach.

My maternal grandmother sewed, crocheted and knit (I believe). I remember lace-up toe shoe slippers and a hat with a humongous tail as well as numerous barbie clothes. I know some of these things are around but I can't lay my finger on them immediately.

My paternal grandma was a school teacher. She was a great cook and one of those Italian grandma's that always wanted you to eat more. I don't know of any crafts she did but from her I got my love of reading and my big feet.

And from both my grandma's I got my blue eyes; the only pair in the next two generations on both sides.

My aunts on both sides sew or crochet. A zig-zag afghan from my Aunt Peggy sat on the end of my bed for years.

My Great-Aunt Amelia crocheted and was an excellent baker. Her apricot cookies are still my absolute favorite cookie.

Great-Aunt Inez made the world's best fudge.

My Great-Great-Aunt, Mania Lucy (Mania is a family word for aunt, pronounced Mon-yah)was a professional seamstress and a wonderful cook. No family reunion was complete without her baked spaghetti, which she continued to make well into her 90s. And I've always loved Mania Lucy's story of coming to America. Great-Great-Uncle Pete had been here for a while and went back to his village in Italy looking for a wife. He basically asked "Who wants to come to America?" and Mania Lucy said yes. In her late teens, she picked up and moved across the ocean, away from everyone she knew because she wanted to have an adventure. I can't imagine being that brave.

Great-Aunt Dot didn't have much time for domestic arts, she was too busy being a Navy WAVE (Women Accepted for Volunteer Emergency Service)and then serving with the Navy Nurse Corps until retirement. We always received the best birthday presents from her, collected from around the world. She's the one that inspired my mom to become a nurse.

If you look back at this list you see a lot of past tense. That's because many of these women have passed away. I was lucky enough to know all of them at least for a short time.

Since I've started crocheting, family members have given me items made by other relatives. Sadly, the creators of these items remain unidentified. We have some guesses as to who made what but no certainty. My mom had a quilt top that her mother found in the attic, best guess is that someone from the generation before that made it. And I have all these things.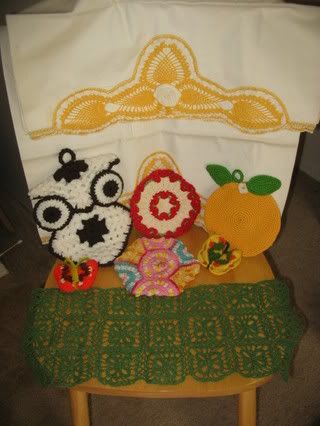 The only items I can identify are the butterfly magnets and the owl potholder, all made by Aunt Amelia. The crochet-edged pillowcases, the thread potholders and the table runner are all unknown.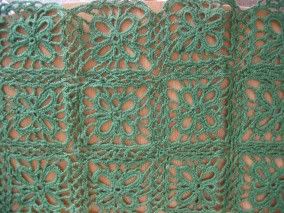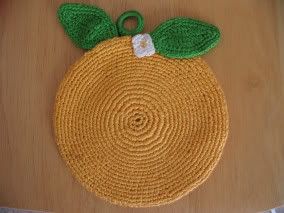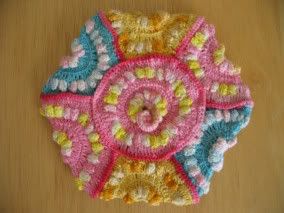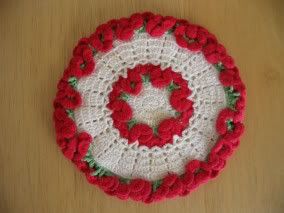 I come from a line of wonderful, talented, strong women on both sides of my family. And I hope they all know how much I appreciate them and what they did.