An FO for your enjoyment. This is my new "taking the bus to work" bag.




The crocheted/felted section has been done for over a week, the lining is what really slowed me down. I'm still not 100% happy with it, but it will do for now.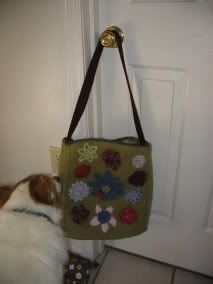 Lucy likes to pretend she's Ferdinand the Bull.

Close up of the flowers.




That's a ladybug on the blue flower. I'm a firm believer that ladybugs should be included in projects whenever possible.

Depth perception.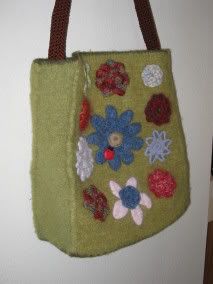 Materials -
Yarn - various wools I've accumulated (friend's grandma's attic yarn, e-bay yarn, actual LYS yarn, mystery yarn)
Lining - Joann's remnants with magnets sewn in for closure, cardboard in the bottom
Handle - J & P Coats Crochet Nylon. Makes a very good strap, hardly any stretch.

Except for the fabric and the magnets, everything was already in the stash. Even the ladybug.

An example that ladybugs make everything cooler.