Awwwww...

This is Blake.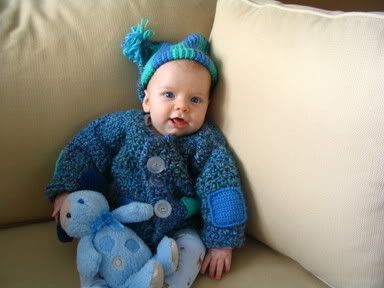 He lives in Chicago and is getting a lot of use out of the sweater and hat I made for him. Mom and Dad (aka the Cable Guy) now officially have their hands full with Blake and his big sister the Goose.

It's nice to see your projects get used, isn't it?

Beth, don't worry about the picture delay. 12 weeks into a new baby seems like about the time your brain would return to its previously full functioning level so you are right on schedule!

And Pat and I will definitely be planning a trip to Chicago sometime in the next decade (my schedule's a bit too chaotic to narrow it down further then that right now) (and you know Pat, busy busy busy).

One more time: "Awww"