The baby sweater/hat set is complete.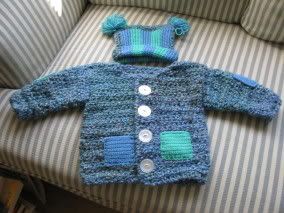 Lion Brand Homespun in Windsor
Lion Brand Baby Soft in Blue Bell and Spring Green
Pattern here. Well, the ORIGINAL pattern. Changes were made, most obviously the color.

Now I just have to get it to Chicago by way of DC by Thanksgiving.

In other yarn news - have finally started working on the tank top design for SWTC.
It's going very slowly because I keep changing my mind. And I don't even know why I'm mentioning it because I don't think I can post a pic or the pattern when it's done anyway. Unless of course they reject it, there is precedence you know. Maybe I'll eventually have a whole line of Not-quite-good-enough products...

The red sock grows slowly.

Non-yarn. The unexpected visit from the ex is still freaking me out. It's hard to put into words but he still tries to treat me like I owe him something or that he has certain rights in my life that he really doesn't. He's not dangerous or stalker-y, just annoying, but it annoys me that he is still able to annoy me. Ugh.

I'm doing my best not to wish him bad luck but the dying palm tree below just put evil thoughts into my head...