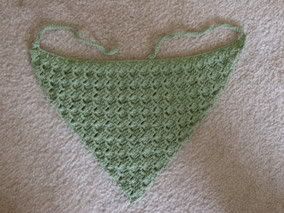 Butterfly mercerized cotton, less than 1 skein
H hook

Ch 66 (this is what fit my head, I think I'm rather average in that regard but you may want to check on your own)

R1: sc across
R2: Ch 1, 2dc in first sc *skip 2 sc, sc in 3rd sc ch 4, 3 dc in same sc* repeat 19 times (until end), sc in last sc (21 shells)
R3: Ch 1, sl st to ch4 space, ch 4, 3 dc in ch4 space, *sc in ch 4 space, ch4, 3 dc in ch 4 space* repeat 18 times, sc in ch 4 space (19 shells)
R4: repeat R3, * to * 17 times (18 shells)
R5-R20: reduce the number of repeats by one each row (reduce number of shells by one each row)
R21: ch4 3 dc in ch 4 space, fasten off

For ties - chain as many as needed to reach from the corners to the back of your neck. Single crochet across. Make 2. Fasten to corners.

This is the first pattern I've ever written out, so please let me know if you have any questions/problems and I'll try to fix it the best I can.

ETA: Michelle found the first mistake. In R3 and subsequent rows, the shell repeat is *sc in ch 4 space, ch4, 3 dc in ch 4 space*. I had forgotten those all important ch 4's. Thanks Michelle.