In lieu of actual content, I give you a list of things that made me laugh recently.

1. A T-shirt that reads "I poke badgers with spoons". At first I just reviled in its complete randomness then I found out it was from an Eddie Izzard routine (warning: sound) and I was even more smitten.

2. These two Unshelved strips. The first one encapsulates why I do not want to work in a consumer health library, the second I wish actually existed.

3. Hearing Lucy (of Luscious Gracious fame) start a sentence with the phrase "It's like that French folktale..." She's 10. I'm 35 and I don't think I've ever uttered something so erudite.

4. The fact that Lucy (of dog fame) ate a half pound of brown sugar and the only reason she didn't eat the whole pound was because it was 5 years old and harder than a rock.

5. The fact that the next day, Lucy (again of dog fame) ate a piece of tinfoil so now the backyard will be all sparkly in the moonlight.

6. The sheer volume of green yarn I own.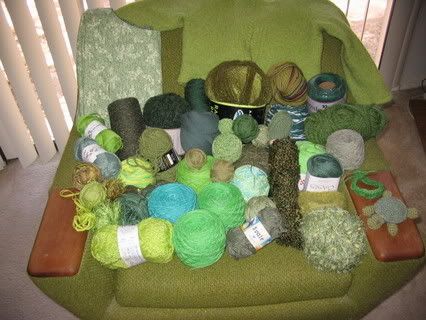 It started as a stash diving excursion to locate something green for Project Spectrum. It ended with an avocado colored Danish modern chair covered in green yarns. And that isn't even including the duplicate skeins.

7. The project I finally decided on for PS this month. See the bright, bright, thick and thin yarn in the bottom left corner? Five skeins of that Turkish delight are going to be the world's most vivid shawl.

8. The fact that I forgot I owed my sister a bag made from the green felted sweater on the back of the chair.

9. That I saw our friend Cynthia on last week's Veronica Mars. I had forgotten to be looking for her debut as an extra but there she was in the final courtroom scene, sitting behind Kristen Bell and acting relieved at the verdict.

10. That I actually came up with 10 things that made me laugh. Last week wasn't the best one ever but apparently it didn't get me down (too much).