During my recent trip home, some boxes full of memorabilia floated to the surface. One contained my Junior and Senior prom dresses, handsewn by Mom. Before you look, promise me you'll remember this was '87 and '88, teal was hot and hot pink was...probably never hot but I liked it. But hoop-skirts were big. Big as in popular, not big as in large. But they were pretty large too. Oh nevermind, just go look.

Junior Prom - tea-length with Napoleon Dynamite-approved sleeves "They're real big."
(prom attended with ultra-Republican super-Christian)(whose brother may have just been arrested trying to sell crack to a cop)(a cop sitting in his patrol car)(Nevermind, go look at the pretty picture).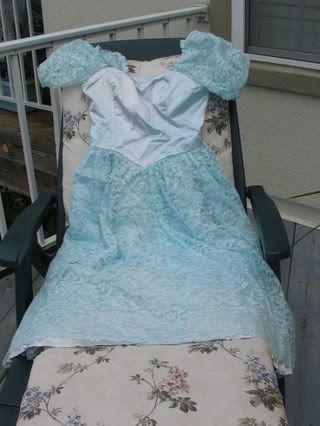 Senior Prom - floor-length, hoop-skirt required.
(prom attended with the reason I hate both Leonardo DiCaprio and the given name Scott.)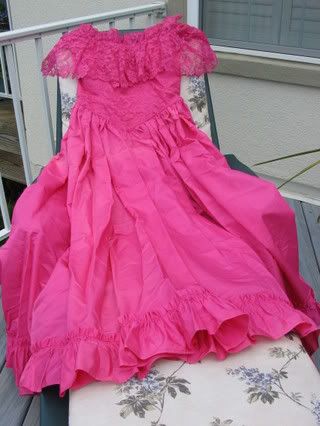 Both came with matching shoes and purse.

And, damn, did I work that dress. Check it out.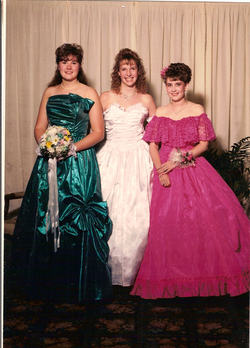 That's Kim in the green lame and Marci with the visible swimsuit tanlines. It's like Charlie's Angels come to life. And be sure to notice the faux flower in the 'do. Classy.

Just to prove my Mom has moved on to non-flammable fabrics and more tasteful designs, look at this.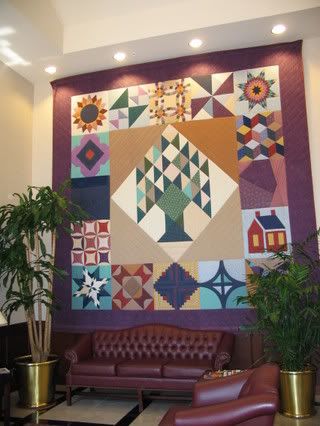 This huge quilt is hanging in the lobby of the Fulton Opera House in Lancaster. Mom and her guild (the Red Rose Quilters) made squares for it and it was worked on during perfomances of some show (which I can't remember the name of.) Very cool.