I'm fully aware that Lucy needs to drop a few pounds. Hell, so do I. What I didn't realize was that Lucy feels it's time to construct a serious diet plan. Why else would I arrive home to this scene last night?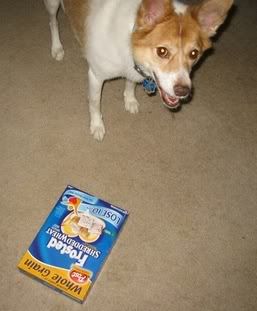 I didn't want to be the one to tell her that these radical diets never have long term results and she'd just be likely to gain the 10 pounds back, plus a few more. Instead, I just quietly picked up the slightly mauled but still unopened box and placed it back on the counter.

Then I re-thought my actions, picked up the box again and placed it on top of the refrigerator. She's a world-class counter surfer but even she hasn't figured out how to reach all the way up there. Yet.