My Christmas vacation was very canine-intensive and so, since I can't make this a cat blog, for today I'm turning Hip Hip Crochet into a dog blog.

This is Cusco. He's named after a city in Peru where his owners (friends of my sister) had vacationed. And no matter what I think or say, it's not pronounced "Crisco"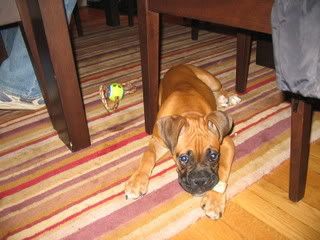 He really likes my sister. Especially to chew on.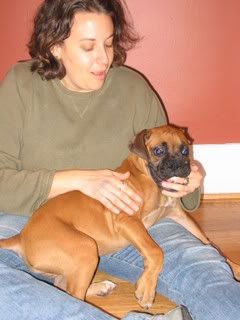 He's very inquisitive.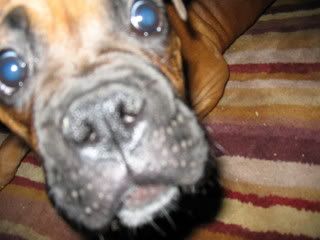 And a bit psychotic.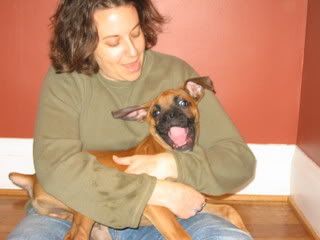 Christmas day was spent in the company of 5 large dogs. Oh, and my relatives. Almost forgot about them with all the hound dog goodness.
This is Cassie and Ally. I think. There are three blue tick hounds, Cassie, Ally and Abby, and, except for Cassie (the youngest) outweighing the other two by almost 30 pounds, they were hard to tell apart. Especially since they are constantly in motion.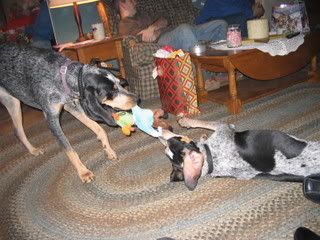 This is Sadie the border collie bonding with my dad. She's the matriarch of the house (the hounds are all granddogs visiting for the day) and prefers to keep herself out of the fray. Unless you pick up her ball. Or look at her ball. Or accidentally say the word "ball". Then she flips into OCD mode and plays fetch for 20 minutes.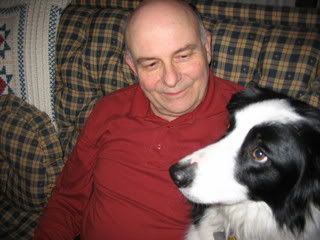 There's also a collie named Joy floating around but the only shot I got of her was her butt and collie butts just aren't that attractive (unlike
Mr Murphy's
fuzzy butt.)(Of which I can't get a good picture because he keeps sitting down.)
New Year's Eve was spent at Melanie's with friends and dogs.
Murphy tried to make a little time with Anna.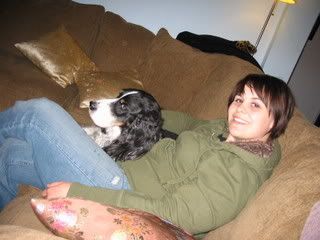 And when that didn't work, he moved his affections to Bernice.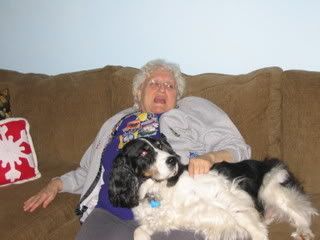 (I apologize for the unflattering shot of Bernice but Murphy-love is just too cute not to share. In real life Bernice is much hotter than that.)
We had a fun evening but Lucy (who had eaten an entire tin of
Altoids
earlier in the day, as well as her
NSAID
s and three meals worth of dog food) was a bit intestinally challenged and exited the party after being roundly mocked for stinking up the joint.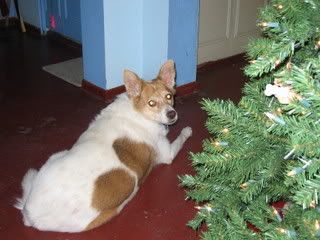 So there you have it: The 8 Dogs of Christmas. Next year I'll try to find 4 more.