I finally got around to taking some FO pictures.

And so, with no further ado...tangible proof that this is still a knit/crochet blog.

This is the shawl I made for my company Christmas party. It had a bit of a metallic sheen which went well with the shiny gold/champagne skirt.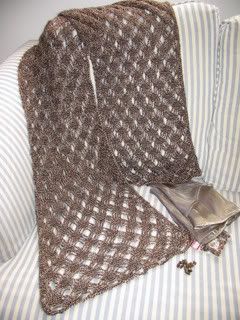 I had more elaborate plans for this project but ran out of time (literally, it was blocking under the ceiling fan as I was putting on my make-up.) In the above picture you can see some fabric, saved from the dress alteration and some beads of various shapes and colors. I was hoping to incorporate both items and may do so in the future...even though I'm not sure of the next time I'll be wearing that dress.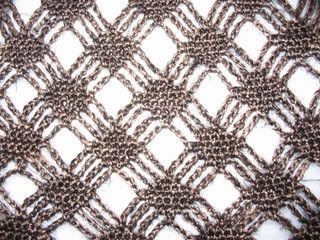 Pattern: Stacked Diamonds from the
Encyclopedia of Crochet
, done in a rectangle.
Yarn:
Feza Mesmerize
in Copper Brown from Tempe Yarn and Fiber. 65% Acetate, 35% Polyamid. 5+ balls with most of a sixth leftover for future edging/beading/what-have-you.
Hook: I? J? Something like that. I forgot to write anything down. Forgive me, I've been sick.
Here's a pile of things for my Mom. The light scarf is her belated Christmas present, the black scarf is because she like a purple one I made my aunt and the dishcloths are because you always need dishcloths.
Off-white scarf: Lion Brand Wool-Ease Sportweight which has been discontinued. Size 7 needle. Pattern is supposed to resemble plaid to match the Burberry-esque lining of her maroon winter coat. I did a few inches of stockinette and then various rows in the opposite stitch. All very random.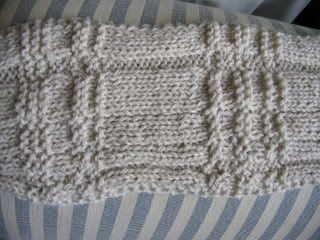 Obviously, it still needs to be blocked before mailing tomorrow.
Black scarf:
Berroco Cotton Twist
in Pitch Black also from Tempe Yarn and fiber. J hook. R1: sc / R2: dc / R3: sc / R4: dc, ch1, skip 1, dc, repeat.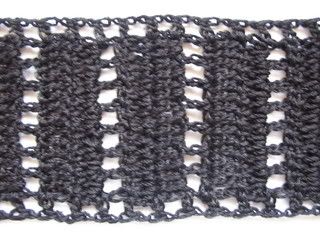 The dishcloths were knit (first knitted dishcloths I've done) on size 7s with some huge skein of kitchen-cotton-like yarn. One is done diagonally, either increasing or decreasing by one stitch at the end of every row. The other is stockinette with a garter stitch border, the center is stockinette done in the opposite direction (is that reverse stockinette?). I like how the center turned out, it looks almost woven in.
There you have it, I haven't forgotten how to manipulate yarn.
And some day soon I'll introduce you to Pepe.