I made this a while ago for Avi and delivered it to him (and mom) when he came to visit us in AZ. Avi's a born Florida Gator - hence the color scheme. This also shows you how oblivious I am about small children. I thought this was an appropriate size for an almost-newborn. Turns out, it's bigger than his head. Oh well, he'll grow into it.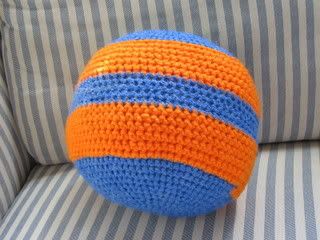 Yarn: two acrylics from the stash. The orange is Red Heart and the Blue is Lion Brand.
Pattern: two half circles (made in the fashion of a hat) sewn together and stuffed.
I also heard a rumor that the family dog is quite intrigued with the ball as well.
* It doesn't really bounce that well. It's more for rolling.