I actually finished something!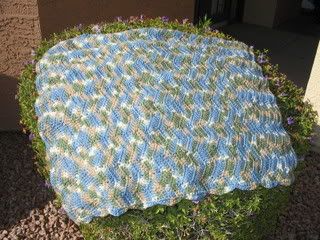 A ripple baby blanket for a mom-to-be from my book club. The shower is this Saturday so I'm remarkably ahead of schedule.
Pattern: a standard ripple. The side edges are: 3 dc, 2 tc, 3 dc ,sc, sl st sc, repeat
Yarn: TLC Essentials in Oasis. 2.75 skeins. Machine wash- and dry-able.
And, just because, here's a picture of Lucy showing off her hand-mouth coordination.