Just to prove to y'all that I am actually accomplishing things when I disappear from the online world.

1. Mom's Baltic Sea Stole (Fiber Trends pattern, highly modified) from the $42 ball of yarn and my black beaded shawl (basic ripple) from size 10 cotton thread.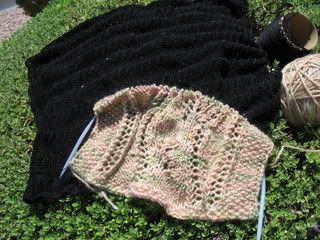 I know the picture's kind of crappy but it's damn hot out there. I went outside barefoot and stayed on the white sidewalk for about 90 seconds and I literally burned the soles of my feet. I just finished soaking them in the tub to cool them down.
2. Spinning. The merino/tencel fiber
Mel
gave me for my birthday. I'm having a lot of fun with this but I'm not really sure how much I've made. Considering the thinness I'm probably going to have to ply it and I know I want to dye it. The project will depend on the yardage I guess. I have at least a quarter of the ball of fiber left to spin.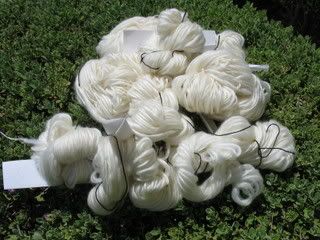 3. Books
53.
Harry Potter and the Half-Blood Prince
- JK Rowling. Now I just have to wait until July...
54.
There's a (Slight) Chance I Might Be Going to Hell
- Laurie Notaro. Her first foray into fiction (at least published.) I enjoyed it but the ending had a sheen of WTF? For the locals, Laurie will be at
Changing Hands
for a reading/signing on Tuesday, June 26. I suggest you go. Just know that Mel and I have "A" tickets so we'll be at the front of the line.
55.
Firefly: The Official Companion Volume 1
- I absolutely love
Firefly
and pretty much anything else Joss Whedon has done. It doesn't hurt that the entire cast is very easy to look at. This is the shooting script for the first half of the series and lots of biographical and behind the scenes info. My sister gave it to me for Christmas, along with the DVDs and I'm trying to watch each episode before reading it. I should be through volume 2 in a week or two.
I've started a few other books but nothing is grabbing me. I've actually stopped reading two of them and have no plans on picking them up again which is odd for me.
4. Action Figures - a coworker RAOKed me the
Deluxe Librarian Action Figure
in honor of graduation. She's residing at work right now so I don't have a picture. I saw Nancy Pearl (model for the figure) speaking at the Phoenix Public Library a few months ago.
5. Teeth - I have a temporary crown on the the tooth-that-loves-the drama. Because of the chunk that broke off (actual tooth, not filling as the dentist suspected) there's a whole gum line issue that was resolved by some type of electricity which required GROUNDING me prior to sticking the instrument in my mouth where it BURNED AWAY part of the gums so the crown would be set right. The positive points? No stitches and I didn't smell any charred flesh which would have grossed me right the hell out. And I wasn't electrocuted, so the grounding obviously worked. Permanent crown in 2 weeks, hopefully without too much more drama.
See, I've been busy. Now don't you feel bad for doubting my commitment to
Sparkle Motion
...I'm mean the blog?