Yes, I'm aware that it's been 11 days since my last post. Yes, I'm aware that I said I'd be posting more often. Yes, I'm aware that I suck.

In my defense; twice in 9 days is still more frequently then twice in 2 months.

The past week was...well...it was there. It wasn't too bad but it definitely wasn't good and it lasted about 37 days as far as I could tell. I am apparently in the Fourth Stage.

The Five Stages of New Employment

1. Naivete (first two weeks): "I can totally do this job. I will kick some serious ass here."

2. Trepidation (third week): "Why did I ever think I could do this job? It's obviously impossible for me to do well at this."

3. Cautious Optimism (fourth and fifth week): "This job isn't so bad. I'm sure with some time and effort I can succeed."

4. Overwhelming Panic (sixth and seventh week): "Do what? I didn't know that was part of the job. How am I supposed to do that and the other stuff? And what about that other thing? Does that happen often? Did I cause that to happen? Am I going to be fired because that happened? Why did I ever think I could do this job?"

5. Acceptance (eighth week): "I can handle this job.I will do great at this job."
(This is an assumption on my part. A big, honkin', hopeful assumption.)

Anyway - change of subject.

Some time in December I finished my part of a small bag for my Mom.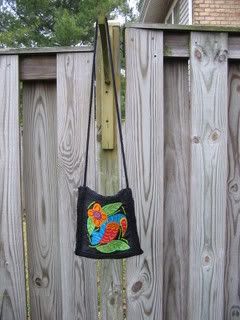 It's made of black Crochet Nylon, knit on size 7 needle.
The back in done in a checkerboard pattern, done with knits and purls, the front is stockinette and the strap is i-cord. It's about 7 X 9 inches.
My Mom sewed the patch on the front, making it into an extra pocket. The patch was a gift from a Costa Rican bird-watching trip.
And finally, the first few books of the new year:
1.
The Final Diagnosis
- Arthur Hailey. The same author who wrote
Hotel
and
Airport
, this is a behind the scenes look at a small hospital where the staff sleeps with each other, there's an outbreak of typhoid and the pathology department is overworked and run by a doc that should have retired 5 years ago. And, since it was published in 1959, all the staff smoke in the hospital hallways, the student nurses aren't allowed to talk to the doctors and they refer to the black, pregnant patient as a Negress. Aside from all that, hospitals don't seem to have changed too much.
2.
The Birth of Venus
- Sarah Dunant. The book club selection for my Arizona club (I'm now a bi-coastal bookie). When I first finished the book, I thought I liked it and just needed to understand more about Florence, Italy in the 1500s to really get it. Then, the more I thought about it, I realize I didn't care for it. There are too many coincidences, the action moved too slowly (weeks would pass between plot points) and I figured out all the "surprises" before they were revealed. It's not a horrible book but aside from the setting it wasn't very original.