I'm back and with not a whole lot to show for it. Many things in progress, not a lot done.

I did finish Mel's belated birthday present.

Pre-felting, with clogs and dog.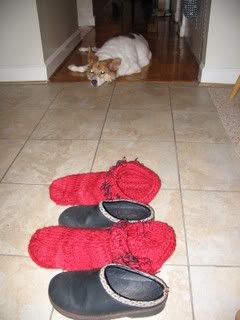 Post-felting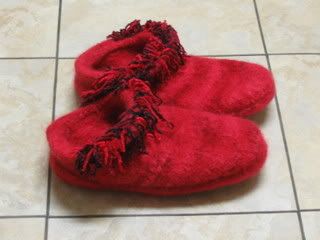 And the bottoms.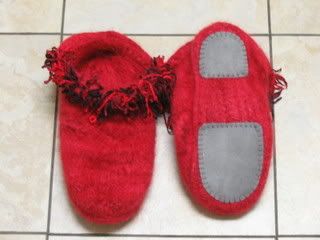 Pattern: Fiber Trends Felt Clogs
Yarn: Lamb's Pride Worsted in Strawberry Smoothie, held doubled and some "rayon chenille" in red and black
Needle: Knit on size 13, 24 inch, plastic. Rayon sewn on in loops with tapestry needle.
Bottoms: Fiber Trends' Suede 2-piece Slipper Bottoms
I got all the yarn at
the Mannings
while I was living with my parents. That is seriously one of the coolest places ever. (
Lolly
thinks so too.) Wheels and looms and yarn and fiber everywhere. Also, many cats. I'm guessing the chenille was a 'home-grown' yarn because the label was plain white with "rayon chenille" and the yardage typed on it. That's is.
I used 4 skeins of the Lamb's Pride but ended up with two half skeins because I was holding it doubled. I then used the leftovers to make a garter-stitch birthday scarf for a co-worker. There are pictures but they're trapped in the camera.
Here's a partially completed blanket made with the Jo-Ann Sensations Rainbow Boucle in the aptly named "Green Print." I was making a log-cabin but I tired of binding on and casting off so I just went a little wacky with the random squares. It's finished now and there are pictures but, again, camera hostages.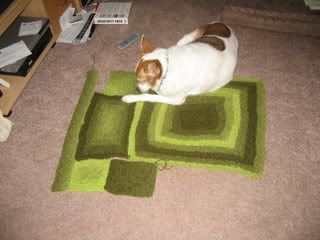 Library Plug!

Pamie's
doing her
book drive
again and I encourage you all to go a donate a few books to some needy libraries. Do it 'cause Dewey's so darn cute!
Only one book to report. I'm acting atypically for me and have actually started two books recently and put them down unfinished. Nothing really wrong with them and I'd gotten about halfway through each but they just weren't what I was looking for. I did finish this one.
11.
Island of the Sequined Love Nun
- Christopher Moore. Less woo-woo then
Coyote Blue
, which is good in my opinion. Very funny, touching on organ trafficking, cargo cults and talking fruit bats with sunglasses. For me, the best part came in the Afterword: "My approach to research has always been 'Is this correct or should I be more vague?'" I'm always a fan of a good research joke.
In other news, I just got DirecTV and a DVR so I'm planning on never leaving the house again. Except to go to the gym because I'm going to buy an actually iPod soon so I won't go insane while exercising. I have to say, having a positive income is much better than the negative one I've been dealing with the last few years.