My package from home arrived today, filled with the goodies I acquired that wouldn't fit into my suitcase. It's a tradition.




Clockwise from top: 1)Two Goodwill sweaters I'm going to try and frog. One is cotton, linen, ramie. The other is mohair and acrylic, and is knee length with a hood. Hello 80s! 2)Bargain yarn in one of the many IKEA storage containers Mom gave me (as a not so subtle hint). 3)Lucy toy, a big purple squeaky mouth. 4)Pillowcases with crocheted edging. These came from Great-Aunt's attic, but no one know if they are handmade or not, and if so, by whom. It's a handicraft mystery. 5)Another Lucy toy, even the dog likes fiber humor apparently.

Here's Lucy checking out her new floor pad, made by her grandma. She also has a matching bed cover, but I haven't wrestled that into place yet.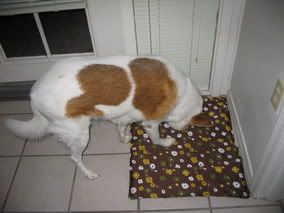 In response to yesterday's comments: Sarah, it would be quite nice to do the whole PO thing from home, but I'm one of those weirdos who has a computer but a non-functioning printer. Maybe this will give me another impetus to get it running. Paula, I meant ananacephalic in the "I used to be a genetic counselor" kind of way, i.e. no top of the head. A neck, a mouth but nothing above that. No brain would be...anancraniosacral nervous system? Or how about ananencephalon? Or maybe George W Bush? (Sorry Brooke).

Work still sucks. I cannot believe how close I came today to saying "Alrighty then, I quit!" Which goes against my master plan of not being completely broke. Though over the course of the day I was able to enlighten some people about things they didn't know which may show me a better light. Or not. I'm almost past caring at this point.

Tonight's plan - monkey head. That would be a good name for a band.