Yesterday Melanie and I hit both Jessica's and Fiber Factory (thanks for the sales heads up, Becky). I had something specific to get at Jessica's and I think I showed remarkable restraint otherwise. Not perfect, but remarkable nonetheless.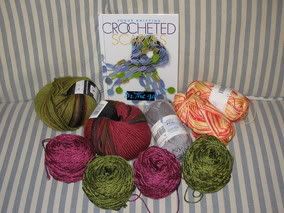 4 skeins of Cotton Twist to finish my green and pink striped shawl that may turn into a poncho (this was the planned purchase). Vogue Knitting's Crochet Scarf book for two patterns, the Plaid scarf (I love Plaid!) and the shawl that looks like amoebas (I'm still a science nerd at heart). And 2 skeins of this funky semi-variegated wool that I have no immediate plans for. And also pictured, 3 balls of cotton gotten from FF on Thursday, no plans, but I couldn't pass up $2 a ball.

And a picture of some of the Christmas loot, both what was given to me and what I got on my own.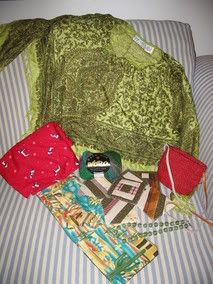 Clockwise from top: The world's brightest poncho from my sister, the Kenyan straw purse I got at Eastern Market, the second place jade bead necklace also from Eastern Market, a two-handed potholder made by my mom and a nightgown with dogs in scarves on it from my parents. In the center are some hand pieced coasters made by mom and the skein of Noro I finally succumbed to.

Last night I finished the cuffs on my sister's mitten/gloves and that's about it. My new go-to project when I'm tired but not ready to go to bed yet is apparently balling yarn. 2 done last night.

Hopefully we'll have a good group at Pita Jungle today. I'm bringing the striped shawl since it's simple and I can both stitch and bitch without making too many mistakes.