First - the crochet version of the Clapotis.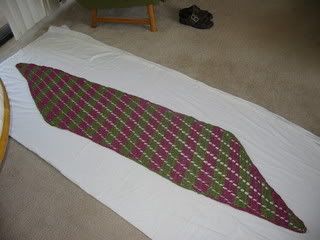 And a close up of the "dropped" stitches.


Made from Berroco Cotton Twist. Colors 8307 and 8366 (aren't they just so descriptive.)

And a baby hat and baby booties. Obviously for a boy. I'd prefer not to buy into the whole gender color thing, but the best babyish yarn I had happened to be blue. Or really, really pink, which I don't think the mom would appreciate.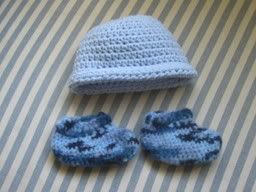 The hat is from Lang Twin and the booties are from a giant cone of mohair-like yarn that I got from ebay. It didn't felt.

I'm not overly loving the hat or the booties. I have no idea if they'll fit, I couldn't find a good "free" bootie pattern and I fear I've contaminated it all by making them while I was contagious. But at least I'm ready for the baby shower...

Tonight - the SWTC sweater, which seems to be behaving itself a little better. And early to bed 'cause this cold is still kicking my ass.