How did this happen?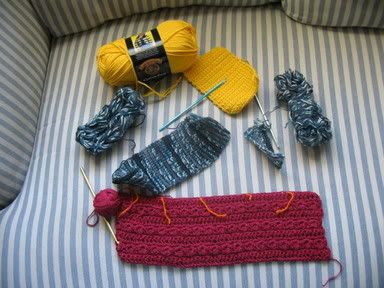 From bottom: The SWTC sweater after 4 froggings. Mom's christmas socks with a new pattern, cuffs in process. A baby shower gift.

Yep, I said it. A baby shower gift. I just didn't like the hat and booties. I even made another pair of booties that matched the hat. I have a bad feeling that none of it would fit.

And hence, this.

Which leads to a little grumpiness. I like Joann's. It's where I first started buying yarn and I can get out of there with enough to finish a project without breaking the bank.

But it's been getting annoying lately. I went there a few weeks ago for some Magic Stripes yarn to make another Cattywhumpus hat. They had one ball, unwrapped, in the worst of the colorways. The bathwrap pattern calls for LionBrand Cotton, and the store had none of the correct colors, in fact they had lots of empty bids and not a lot of cotton at all. I had brought a few baby patterns (all from the LionBrand site) with me and they either didn't have that type of yarn or only had it in one or two colors that didn't go together. Not fancy yarn, either. Chunky USA - the cheapest of their yarns and Baby Homespun - one of their more popular ones. I ended up with CottenEase since they had it in a yellow and the mane and tail are going to be orange, because it's the closest I could get to brown.

Luckily, I'n not really invested in this particular baby so the colors, etc. aren't really bothering me and I need to have it done by the 16th so I didn't want to bother with other stores or online and ending up with no time to finish it. And the price was definitely a factor.

I don't expect a store to have every yarn in stock every trip, but I noticed the Fun Fur and the fluffy and glittery yarns were all fully stocked. Not every project calls for that stuff. Sometimes, people just want to make a plain, simple dishcloth or blanket. Without fluff!

Enough grumpy.

Tonight - Veronica Mars and the lion bathwrap. Or the socks. Or maybe the sweater. Probably little bits of all three.