First off, here's the hat, modeled by me since Miss Gemma wanted nothing to do with it.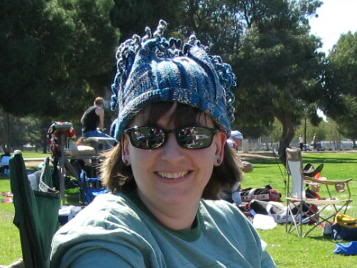 And a close-up



LionBrand Magic Stripes yarn, F hook. Originally it was to be 4 panels, 2 horizontal, 2 vertical. I measured my head and divided by 4 and everything. When 4 were completed, it wasn't big enough so I added 2 more panels (one would have been enough, but I wanted the alternating stripes.) Panels were seamed together with a single crochet with wrong sides facing, leaving a ridge. The 2 (arbitrary) center panels were seamed across the top and the others were folded in and seamed, leaving 3 points on each side. The twirlies are a row of single crochet off a chain. I didn't count anything, the panels are different heights and widths, the pattern was sc, hdc or dc rows in random groupings. The twirlies were about 20 sc, but some were up to 40. Cattywhumpus hat, indeed.

Went to another rugby game today with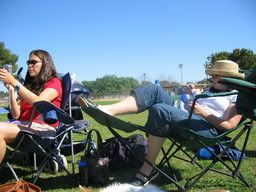 Kim and Michelle and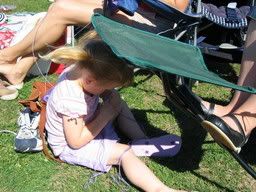 Miss Gemma (who was "helping" her mom with her yarn) and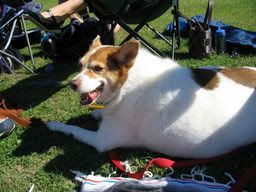 Lucy.

Miss Gemma took some pictures too: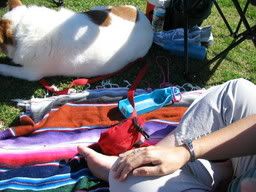 Last night was spent adding more twirlies to the hat (might as well finish up the whole ball of yarn) and frogging my Mom's socks. I absolutely hated the way the socks looked and felt and decided that starting over would be the best solution for my mental health. Now I have many 2 foot long pieces of yarn, 3 hanks of really, really kinky yarn, 2 heels that refused to unwind and enough "virgin" yarn to probably finish the pair (I over-bought, per usual).

Today I started the SWTC sweater, but I kept getting distracted by the dog and the game and the half-naked men. So only a few rows got done and it's possible that they are done wrong. That's the project for tonight.