The bag has been shrunkeded and is currently drying and participating in what some might call "ghetto blocking." The paper towels fit, so I don't care how odd it looks.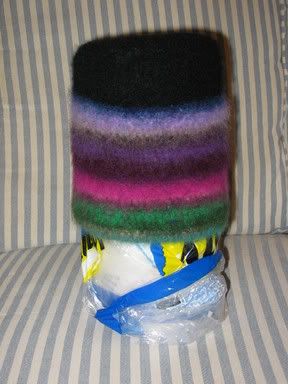 Tomorrow I will buy some drapery cord with my 40% off Joann's coupon and I think that will be that. Ya gotta love a speedy FO.

Michelle contacted me about the headscarf pattern. I did just as I suspected I would and made a rather large mistake. Shells really do need some chains to make that all important ch 4 space. It has been corrected, so crochet away. Until someone finds yet another mistake.

Cupz tomorrow night for the first time since The Amazing Race and Veronica Mars decided to show new episodes for 5 weeks in a row. Why are the good shows always competing against each other? And did that previous sentence make sense to anyone but me?

Next entry: an ode to the eternal geekiness that is my family. Trust me, it's definitely genetic.