The finished bag.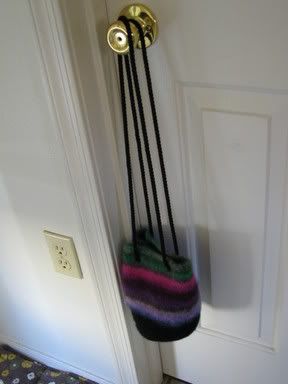 (1/2 skein Paton's Classic Wool in Black + 1 skein Noro Kureyon, No. 87)X two trips thru the washer + 2 yards of cording = one felted bag.

I have actually found some time to read.
35. I'm Not the New Me - Wendy McClure. Wendy was one of the original writers for Television Without Pity and has a website called Pound. She's hysterically funny so of course I had to read this. And it didn't disappoint. And if you haven't seen her Weight Watcher Cards commentary, you must go right now.

36. Life, the Universe and Everything - Douglas Adams. I've got all of Adams' stuff in one big book, hence the cluster of Arthur Dent stories.
"What are you doing?"
"Thinking."
"Do you always breathe like that when you're thinking?"
"I wasn't aware that I was breathing."
"That's what worried me."

And one school book. I've decide I am going to included them, but in a separate list.
SB1. The Structure of Scientific Revolutions - Thomas S. Kuhn. It made me think and that's never a bad thing.

And Lucy, trying to stay cool on the linoleum.