Doesn't it look like I've got a crop of yarn grapes sprouting in my bathroom?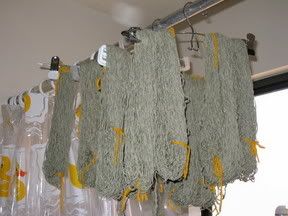 Be sure to note the duckie shower curtain.

The yarn is much straighter now. And hopefully Sarah will let me borrow her swift tomorrow and cut the labor by 95%.

And now for another trip inside my head. The entire time I was frogging this sweater I was picturing little germies flying off the yarn and up my nose. Kind of like the way little germies fly out of the toilet when you flush it. It took some of the pleasure out of the process; I was almost forced to fashion a crude mask out of my swatch collection. Next time, I think I'll wash the sweater first, to avoid the trauma drama.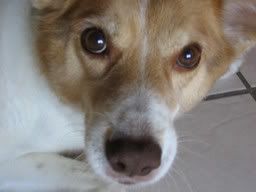 Lucy's just annoyed I woke her up taking pictures again.