The reclaimed sweater, post-reclaiming, pre-washing.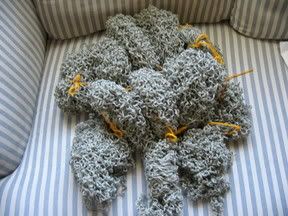 It was a size small, long sleeve sweater. It will be a size (bleep) short sleeve / sleeveless sweater. Eventually. The yarn is a flat, ribbon-y, grayish, green cotton/linen/ramie. I'm sure the color has some vegetative equivalent, but I can't decide what it is. Not sage or celery or grass. Not lettuce or mold or unripe tomato. It look a lot like dusty miller, but I don't think that plant has made it into the color name vernacular yet.

But maybe it's about time it did. From now on, every green that is kinda grayish will be called Dusty Miller. Please spread it around.

And a side note - how is it I can photocopy large quantities of paper continuously for 2 hours and the only paper cut I get is during delivery? Any why won't it stop bleeding?