Question # 1 - You have a bad headache that won't subside and are incapable of reading, what is the proper action to take?
Normal Answer - NSAIDs or a nap.
Pam's Answer - Inhale large quantities of powered drink mix.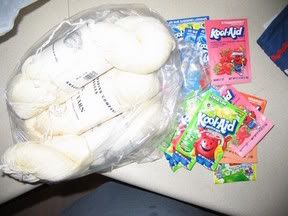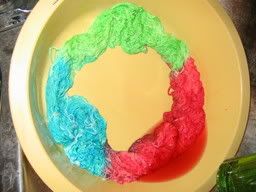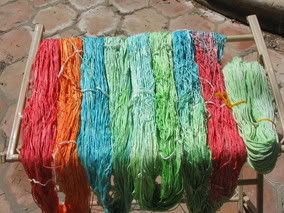 L to R:
Soy Silk, Strawberry and Orange Kool-aid
Soy Silk, Berry Blue, Ice Blue Raspberry Lemonade, Lemon Lime
Soy Silk, Ice Blue Raspberry Lemonade, Lemon Lime
Soy Silk, Wild Watermelon Kiwi, Berry Blue, Strawberry
Kitchen Cotton, Wild Watermelon Kiwi

And I only dyed my hands a little bit.

Next Kool-aid project - sock yarn from KnitPicks to make self-striping orange and green yarn.

Question # 2 - How much does Vera rock?
Normal Answer - Who's Vera? I've never heard you mention a Vera.
Pam's Answer - Vera Rocks! A whole bunch! I've been reading her blog for a while now and she mentioned that she wanted to get a copy of Hot Knits. Well, I happened to have a copy that I won at the Holiday party and since I don't really knit we organized a trade.

Here's my haul: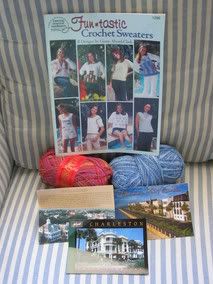 A cool crochet pattern book with short sleeve sweaters and tanks, some bee-yoo-te-ful sock yarn and pretty, pretty postcards of Charleston.

I just hope she likes what I sent her, this was my first yarn-related, cross-country trading session and I was a bit nervous.

Question # 3 - You have a lot of yarn and a limited income, what should you do?
Normal Answer - Conserve money and don't buy yarn.
Pam's Answer - Buy this bag kit and join a Crochet-along. Also, buy some dyeable sock yarn.

Question # 4 - You're allergic to cats, how should you act around them?
Normal Answer - Keep your distance, be polite but no touching.
Pam's Answer - Become obsessed with Sarah's new kitten Sophie and spend way too much time holding her and letting her chew on you fingers. This is one damn cute cat. And luckily I'm not THAT allergic to her. It apparently varies by cat. Melanie's Ben and Jerry = mega sneezing.

Question # 4 - You have a ton of reading to do for school, how should you spend your time?
Normal Answer - Do school readings.
Pam's Answer - Dye yarn and read non-school related books.
39. The Sisterhood of the Traveling Pants - Ann Bradshares. This was technically a reread but not in 2005. This is a good book, definitely geared towards the teen girl demographic, but good for grown-ups too. Now I just need to find time to get to the movie.

Question # 5 - You've just had your teeth cleaned and now have a bald patch on your leg from the IV placement, how do you act? Oh yeah, you're also a dog.
Normal Answer - Bald spot? Isn't that some kind of vanity to care about such things? I'm a dog, dude. I care not for physical appearances.
Lucy's Answer - Look sad.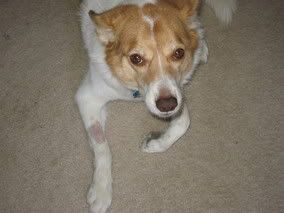 Final Question - Tomorrow is Saturday, what are you going to do?
Everyone's Answer - Knit In Public of course. 4 pm at Mama Java's. Be there and/or be square.