Very busy week in more than one regard.

First, the FOs.




Scrunchies, made from various bits and pieces of leftover yarns and some Target yarns. Separated into piles for gift giving purposes, some of which happened prior to the picture, some post-picture and some forthcoming. Remarkably easy to crochet, I just built on hair elastics I got at Target (while also getting the yarn).


Next, the partial FOs.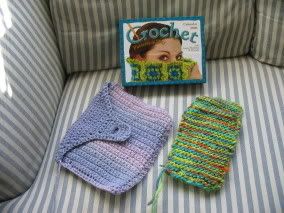 Two small bags that need to be felted. The purple one is SWTC Karaoke and the other is (I believe) a test color of Karaoke that I got at the recent sale. And if you look closely at the smaller bag you'll discover a deep dark secret. I knit it. Badly, but it's knit. I tried the continental style and it seemed to go easier for me but I'm still having trouble figuring out which way to wrap the yarn. And the first side was made using some bizarre knitting technique that had never before been seen. It made sense to me at the time, seeing how it was late at night and I didn't feel like walking the 10 feet need to pick up one of my 4 "learn to knit" books.

Behind the two bags? That's the 2006 Crochet Pattern-a-Day calendar, the first gift of the birthday season. Thank you so much Luscious Gracious family! I haven't opened it yet, I'm going to see if I can actually last until 2006.

Lucy has stayed away from the yarn bags since her little adventure. Instead, she's been busy doing what she does best.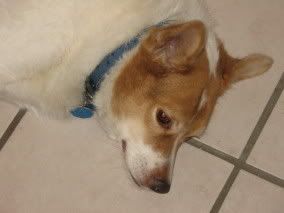 And the best news of all? They finally came and fixed my shower today. No more jury-rigged band-aid spigots and randomly spraying water. And they recaulked the tub as well, so bonus.

And that, my friends, is that.