Here's the thing. The boss lady is trying to starve me. Seriously, one teeny tiny scoop of food, two times a day. And it's diet food at that! So of course I have to scrounge for food, it's a matter of survival.

I'm pretty stretchy when I need to be. The boss thinks if she puts the cookies way back on the counter they're safe. But I showed her! No one keeps Lucinda Mae from her chocolate chip cookies. Or her shredded coconut or her pretzel sticks. Even when I had that bald leg that made me hop into walls, I could still reach stuff. I'm just that good.

But lately, the boss has been putting stuff in cabinets and drawers and damn this lack of opposable thumbs! Or maybe it's just my inability to understand the concept of a door. Either way, the important point is that I'M HUNGRY!

Sometimes the boss puts food in her bag, stuff for what she calls "breakfast". And sometimes she forgets to eat it and then forgets to take it out and that's when I make my move. I dump everything on the floor and pick through for the good stuff; you know, snotty tissues, granola bars, lip balm. Mmmm, lip balm, *drool*.

Where was I? Oh yeah, bags and the food that's sometimes in them. So this morning the boss tricked me. I thought she'd left so I was nosing around in that bag where she keeps the stringy stuff and the pointy metal things that aren't good to eat. Somewhere in there was an empty paper bag that had at one time housed a chocolate pumpkin muffin. And we all know how I feel about chocolate. And then...busted! The boss comes back in the front door (note to self: next time wait until she actually closes the door behind her). She sees the situation and takes the empty muffin bag out of the stringy stuff bag. But then she mumbles something about the time and the stuff she's holding and *get this* hands the muffin bag TO ME. And then she left. Really left this time, I waited to make sure.

So I rip up the muffin bag, licking up every crumb and swallowing the really good paper parts. And then I licked the carpet for a while to make sure I didn't miss anything.

That's when it happened. I decided to give the stringy stuff bag one more go through. There had to be a few more crumbs just waiting in that front pocket. Who knew I'd spend the next 6 hours looking like this...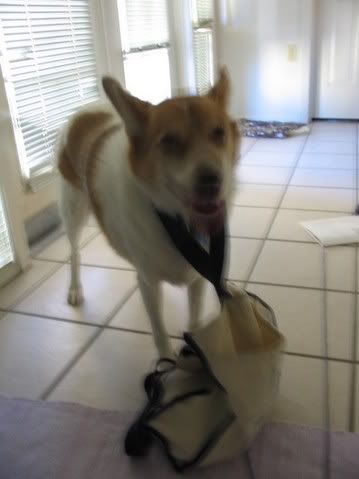 Once the boss got home and stopped laughing and flashing bright lights in my eyes, she untangled me. I knew there was a good reason I never trusted that stringy stuff...