Actual fiber-related content.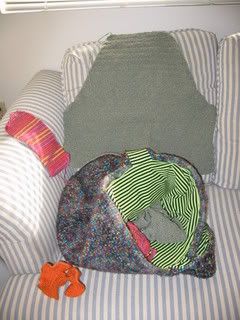 Clockwise from top:

The back of the Anika sweater from Cool Crochet in SWTC Beyond.

The really big, semi-felted bag made a full year ago from Lion Brand Landscapes. Melanie was kind enough to line it for me which she did quite rapidly once I remembered to give her all the supplies.

In the bag are the beginnings of a sock cuff and the front of the sweater.

A hyperbolic plane from the Fall 2005 Interweave Knits Crochet. Just because it was cool.

A completed cuff for a pair of socks.

In other news - I hab a code in my heb. As such I'm laying low. In fact I probably shouldn't have gone to the SnB meeting last night but I did try to avoid breathing on anyone.