Cool things that happened during my trip to Pittsburgh (remember? I went there a few weeks ago? And since I'm chronologically challenged I'm just writing about it now?)

1. It was rainy and cold. You don't see much of that in the Valley of the Sun, so it was a nice change. At least for the first day and a half, after that it got a bit redundant.

2. I got to wear some actual hand-made gear.

3. I got to write a bitchy letter to my former employer because they screwed up my insurance.

4. Sarah helped make the letter even bitchier.

5. Melanie went above and beyond the call of friendship and both dropped me off and picked me up at inconvenient times. Thanks again!

6. I passed out the scrunchies and lanyards and they were well received. And I gave one to my adviser so brownie points!

7. I got to meet Rachel - a fellow medical library student, blogger and thyroid surgery buddy.

8. A small group of librarians-to-be spent an inordinately large amount of time researching the correct way to perform a blowjob. And this was before the margaritas.

9. My roommate kept poking me in the middle of the night - she was having a nightmare about a presentation she had to give and she thought I was a blackboard.

10. This means I'm not the only annoying sleeper in my room!

11. I finished 2 more inches on the sock cuff (not a very productive crochet weekend).

12. Dad enjoyed his presents - new pj's and a Sudoku book. Immediately following this picture, he started doing the puzzles.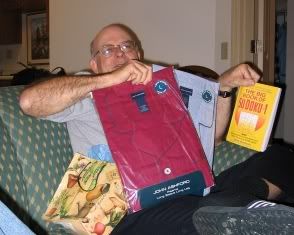 13. The family had an excellent birthday dinner.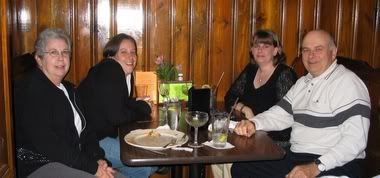 14. My sister napped.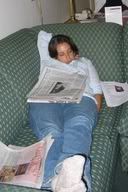 15. There was good cake (and marshmallow pumpkins.)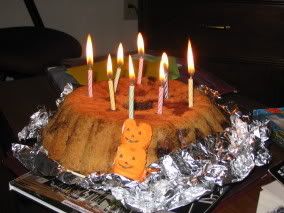 16. My tube of hand cream exploded mid-flight but was safely contained in my cosmetic case.

17. We saw a actual real live hawk by the Cathedral of Learning. (possibly this one.)

18. It had apparently just eaten a chipmunk.

19. I got presents.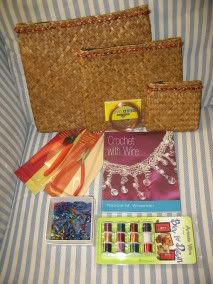 20. I now have a new hobby - Crocheting With Wire (and beads). Thanks Sis.

21. Lucy spent the two days after my return like this. Hanging with her favorite ugly stuffed mouse.




22. We went to the Phipps Conservatory and I took 10 billion pictures of flowers which I will post later.

23. I also got to see some fall foliage.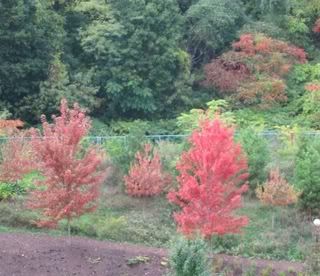 But the coolest part of the trip had to be this:

24. We met Digby.

Digby is a docent (hee, how alliterative of me). Digby is a docent at the Heinz Memorial Chapel. Digby's been a docent for a long time. He's seen a lot. And if you pause slightly during your perambulations, he'll tell you all about it. The society wedding that ended in separate planes back from the honeymoon. The kid's tours that made him cry. The kid's tours that made him grumpy. The bridezillas, groomzillas and momzillas that regularly appear. The length of time he's had to put up with the organ rehearsals for the concert that evening. Digby is kind of bitchy to be a docent in a chapel but, man, was he entertaining.

Not to make assumptions, but Digby appeared to be a gay gentleman of a certain age. Had I gotten a picture of him, you'd know exactly what I mean. You can picture him out on a Saturday night with a group of friends that have know each other forever, drinking manhattans, dressed to the nines, gossiping 'til the cows come home. Digby was cool.

And I think he may have thought my dad was cute.