Second batch.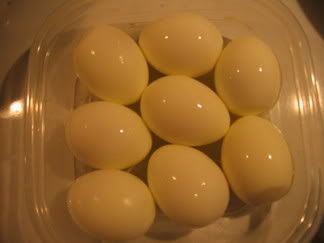 Luckily I bought 2 dozen eggs on Sunday. Latent psychic ability or knowledge of how bad a cook I am. You decide.

Thanks for all the comments on the egg freshness relating to the ease of peeling. It was for just that reason that I bought them Sunday for use today/tomorrow. I don't think it was a freshness issue, I think I slightly undercooked them. Especially since I had a couple of slightly over date eggs in that first batch that were just as self destructive as the others.

So I have 20 or so usable halves and approximately 20 whole eggs in various states of dishevelment. Tomorrow the mixing begins. Wish me luck.