March is Red and Pink month in Project Spectrum and partially by design and partially by happenstance I have two pink FOs to show.

The Happenstance: Baby Sweater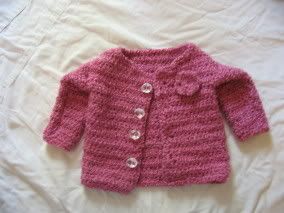 For a baby shower on Sunday. I won't lie to you, the buttons and flowers aren't sewn on yet but at least they're purchased.
Yarn: Lion Brand Homespun in Boston Rose
Pattern: The Birthday Baby Pocket Cardigan only without the pockets.

The Planned: Actual Knitting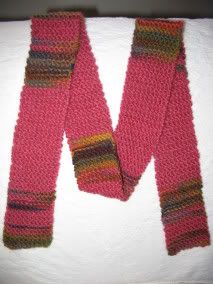 Yarn: Filatura Di Crosa 127 Print Wool
Pattern: Garter stitch until yarn ran out

Here's my plan. Project Spectrum lasts until August. I want to learn to do more knitting. So I combined the two and presto chango: a plan. Each month I'll do a small knit project in that month's colors. And each month I'll do something a bit more complicated. Hence the garter stitch for March. April will see me working the purl stitch into the repertoire. Then ribbing, yarn-overs, increasing, decreasing what have you. If the knitting bug really bites there may be more knit projects and/or a more speedy aquiring of skills but there will be at least one a month.

And some random pinkness.