A while ago, I mentioned some striped sock yarn I was trying to transform into a hat but it wished, instead, to transform into a squash. Remember? Of course you do.

And remember the Kool-Aid/hand dying incident? (Remember, I dyed my hand instead of dying the yarn BY hand? Of course you do.)

Well that yarn did want to be a hat, which is good because that's what it was supposed to be. However, it pulled a quick one on me and also showed some latent squash tendencies.

That's right people; two FOs, two gourds.




The hat - Harmony wool dyed with Orange and Tarmarindo Kool-Aid. Some other green wool - possibly Lopi.
The crookneck squash - Magic Stripes yarn with Kitchen Cotton hair and felt teeth.

Meet Gordelina. She's a squash. A crookneck squash. A crookneck squash with a distinct personality. Someday she may have adventures but right now she's just chillin' with her yarn squash homies.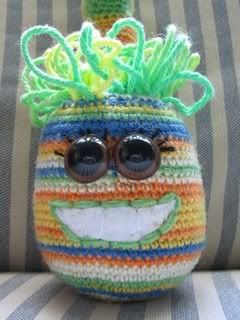 This week, I also got the equivalent of a Secret Pal package in the mail - but from my sister, since I'm not enrolled in SP.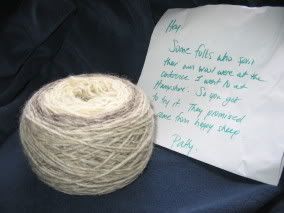 The note reads " Hey - Some folks who spin their own wool were at the conference I went to at Hampshire. So you get to try it. They promised it came from happy sheep."

No idea of how much, if it's dyed or natural, type of happy sheep, name of spinner or astrological sign. But it fits in perfectly with this month's Project Spectrum neutral theme, doesn't it?

It's a bit scratchy but it may be destined to become a cabled scarf. Thanks, Patty.

And Eva? Remember we were trying to think of the name of that artsy-fartsy college in the Northeast that doesn't have any majors? Hampshire College.